Medical Boarding for Dogs and Cats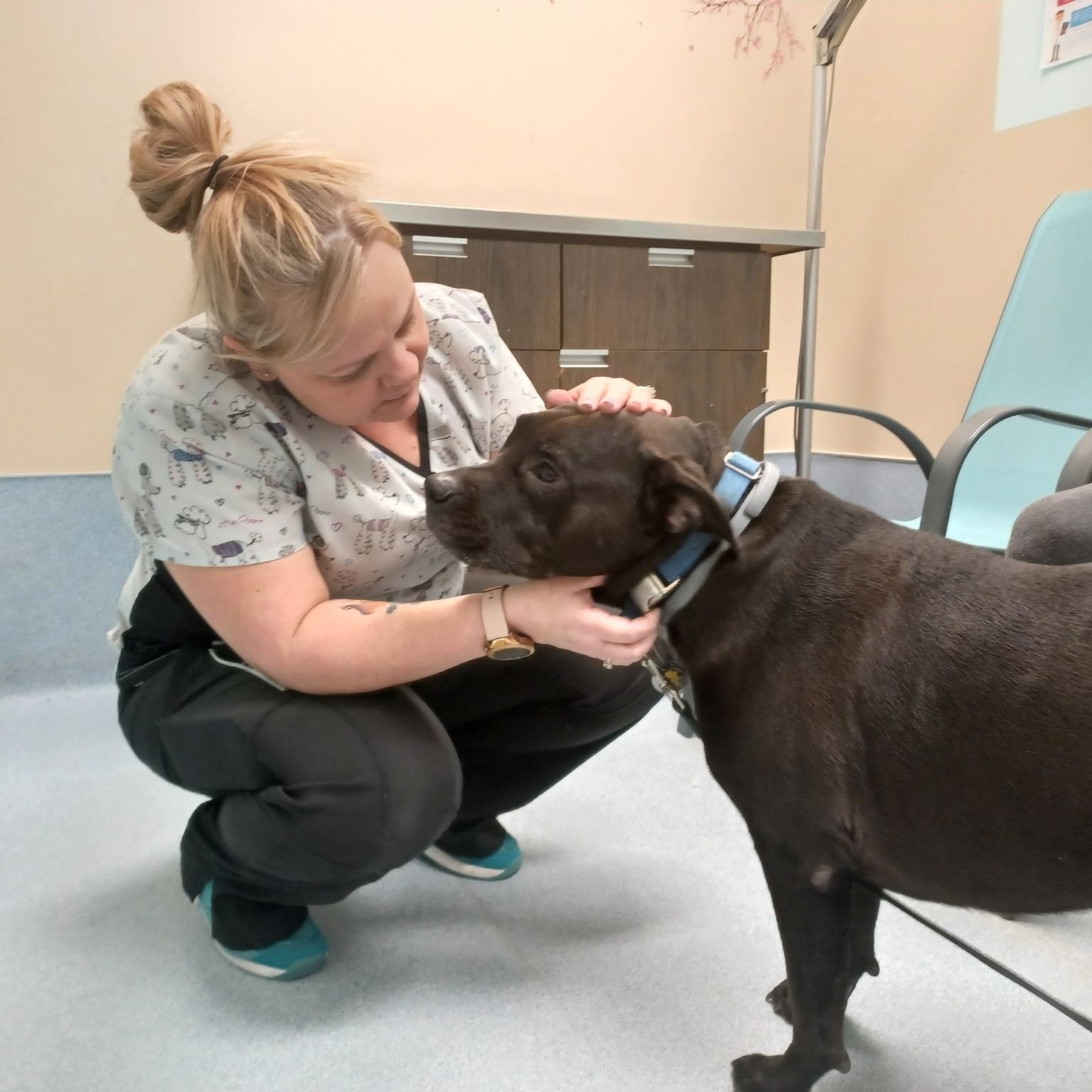 Medical boarding for dogs and cats provided by veterinary professionals means allows our very special patients and their families to remain confident that furry family members will remain safe, healthy, and comfortable during their stay. We provide boarding for pets that are diabetic, have a seizure history, are challenged with mobility disorders or are recovering from surgical procedures and complex medical conditions. We also provide a safe, healthy, fun place to stay for animals who are >12yrs of age. These patients do not always thrive in non-medical boarding settings. Our professional veterinary technicians love nurturing your pet with lavish attention and professional care while continuously monitoring the status of your companion's health and overall wellbeing.

You can rest assured that our responsible and trained staff will properly administer all medi- cations as instructed and will actively observe your pet's condition during care hours 7 days a week. An experienced veterinarian is also on duty to step in and provide updated care in the rare case of an emergency or sudden sickness.
Medical Boarding for Dogs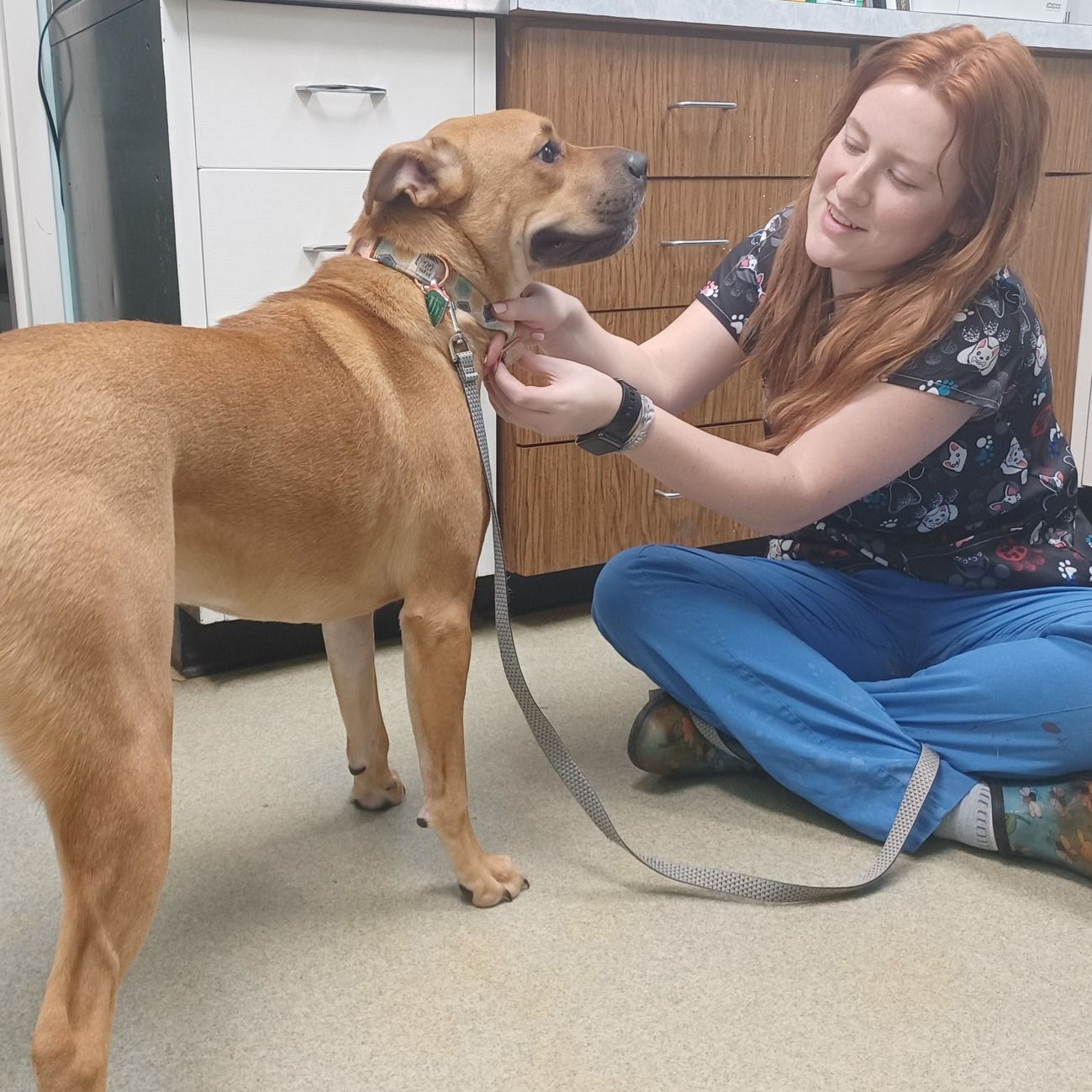 Dogs spend most of their time in private, climate-controlled kennels with soft, clean bedding.

Medication will be administered according to your stated specifications, to ensure their rou- tine is as similar as possible to their time at home.

During their stay, each patient is continually monitored for any changes in medical condi- tions, as well as signs of anxiety, fear or stress. Our veterinarian will address any concerns, here contact you, and adjust the care plan if needed.

Dogs will also get short walks courtesy of our staff, to enjoy fresh air and an opportunity to go to the bathroom on our exclusive 10 acres of suburban property. For the safety of our special patients, there is no group playtime for our boarders. We can provide snack time at "Yappy Hour!" Just let us know if there are any dietary concerns or allergies.
Medical Boarding for Cats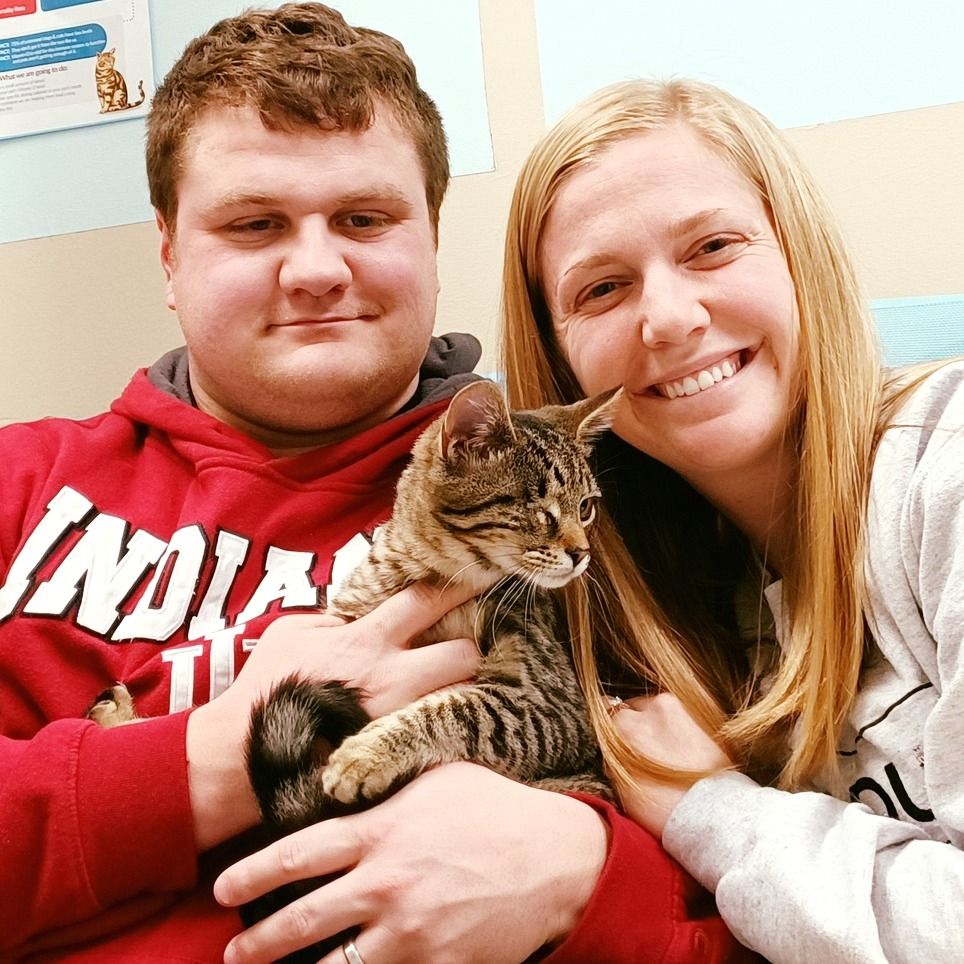 We will take note of any specifications or requirements your cat might have in a discussion with you. Our aim is to provide a seamless transition from their routine at home to their stay with us.

During your cat's time with us, we will feed and administer medication as specified by you, so that their routine closely mimics their time at home.

Our staff interacts with the cats daily, providing snuggles, pets and enrichment activities. We check, clean, and disinfect litter boxes periodically and throughout the day. If there are few dietary concerns, we can provide greenies or temptations during a "Meowy Cocktail Hour" each day before tuck-in.
Boarding Policies and Procedures
If you are interested in medical boarding for your dog or cat at our facility, please contact us for further details and scheduling. We also ask that you review our pet boarding policies and proce dures prior to your reservation and arrival to ensure the safety and wellbeing of all:


Drop-off and Pick-up
You may schedule your pet to be dropped off or picked up from 9am-5:00pm Monday - Friday or 9:00am-11:30am on Saturday .
Please plan to spend at least 10 minutes at our facility during drop off as you will need to fill out a boarding consent form or pet upon each boarding session .
If you need to plan to pick up after 5:00 p.m. during the week and Saturday after 11:30am, please call so that we may confirm and prepare for your arrival. If you need to admit your pet earlier than 9am, we can discuss how to help accommodate and earlier admission time.
Required Vaccinations for Boarding
Dogs must be up to date on the following:
Rabies (primary or 3year)
Bordetella (annually)
Distemper/Parvo Combo (primary or 3year)
Must have had a heartworm test within the past year or must have taken a heartworm prevention for the past 12 months consecutively
Cats must be up to date on the following:
FVRCP (primary or 3year)
Rables (primary or 3year)
Your pet must be fully vaccinated for the above items PRIOR to drop off so please plan accord- ingly as some vaccinations require an initial vaccine and a booster in 2-4 weeks.
Reproductive Status
We do not board female animals in heat. We board neutered males unless a medical exception has been determined in the course of their care by his prior veterinarian.
​​​​​​​
What to bring and what not to bring upon drop off:
You may opt to bring your pet's food to prevent an upset stomach from the introduction of new food, or any prescription diet food that you prefer. You may also purchase a Royal Canin or Purina Pro Plan prescription diet if you wish.
We can feed your pet with our food if you so choose this is at no extra charge. We cur- rently feed Purina Pro Plan Veterinary Diet EN Gastroenteric Diet. This formula is easy to digest and made with high-quality ingredients, including medium-chain triglyceride (MCT) oil, antioxidants, and prebiotic fiber to promote digestive health.
Medical devices such as lift harnesses for mobility patients, insulin syringes, or the glu- you frequently use at home to track your pet's blood glucose levels. We do have AlphaTrax available at our facility for an extra fee.
Medications or Supplements.
Please bring all medications or supplements in the original vials clearly stating your pet's name and dosage instructions.
Please do NOT bring the following, as we provide sanitized:
Bedding
Leashes
Blankets
Raw diets or home cooked food that has not been by BalanceIT or a Veterinary Nutritionist
Toys
Food bowls
Medical Boarding FAQ
What accommodations and amenities do you have?
We offer all the services your pet might need for a recuperative, safe, and enjoyable stay at our hospital, including the following amenities and services:
Climate-controlled kennels
Comfy, cozy bedding for each guest
Clean towels, blankets, and bowls
Individual space for each pet
A separate boarding area for cats
Special diet accommodations
Our cat boarding area is separate from the dogs, and each cat has special padding and blankets to relax on. On occasion Alexa plays calming music. We can provide privacy curtains and disposable cardboard 'hiding or roosting spots.'
How is my pet supervised during their stay?
Medical boarders are exclusively supervised by our professional team of veterinary patient technicians and veterinarians. During your pet's stay with us, they will consult with you on your pet's schedule, administer any required medicine and monitor them closely. If necessary, we will contact you regarding any concerning changes in your pet's medical condition.
How much does medical pet boarding cost?
The base fee for medical boarding of dogs and cats is $30/night. It includes all care, housing, enrichment, snacks, and bedding during business hours at the clinic. If you would like special medical or spa services such as cold laser therapy packages, bathing or grooming packages, or special diets provided by the clinic, the staff can provide an itemized fee list for these added amenities.
When should I make a reservation for my pet?
If you want the best chance for a spot, we advise that you contact us 2-3 weeks before the desired start date to ensure a spot will be available.

Please prepare to remain for admission at least 10 minutes at our animal hospital during drop-off, as you will need to complete a boarding consent form for your pet's boarding session. If you are particularly concerned about your special-needs pet`s ability to adjust to the boarding environment, it may be beneficial to schedule a practice run or a few days of day care ($15/day) prior to reserving an extended stay. We`ll be happy to report your pet`s progress and help give you peace of mind while you are away.
What is the process for administering medication?
During your pet`s stay, a qualified vet patient technician or registered veterinary nurse will administer medication based on the dosage and schedule you specify during check-in.
Can I get updates about my pet during their stay?
Yes, do not hesitate to contact us during your pet`s stay for any updates by email, phone, or even text. We will reply to all inquiries Mon-Saturday during business hours. Rest assured, though, that if there is any problem, concern, or question, we will contact you promptly any day of the week for information or updates about your pet`s condition.
How should I prepare for my pet's stay?
Every animal is special. To prepare for your pet's potential stay with us, we will take the following measures to make sure that we can provide for their unique needs.

Step 1: Contact us to get started
Call us to book a spot and go over any important details about our services and your pet's needs. A member of our team will be happy to organize the booking with you.
Please note that pets must be up to date with all vaccinations and parasite prevention medications. They must be free of fleas, ticks and parasites to stay at our facility. Dogs are required to have a negative heartworm test within the past 12 months. We also do not accept unaltered dogs, unless a medical exception by a veterinarian has been provided. If you have any questions regarding these policies, please contact the office directly.

Step 2: Set your pet up for success
When you drop off your pet with our team, there are a few things you can do beforehand to help ease the transition for your furry companion.
Make sure you spend extra time with them before dropping them off and give them some hearty exercise appropriate for their condition. Make sure cat carriers have been out in the house in a common area for several days so that the cat can explore their travel bag or crate. This will help ensure that they are calmer and less anxious when they arrive to us. When you bring them into our hospital, stay calm, confident, and upbeat during the separation so your pet does not misread your body language and emotions.